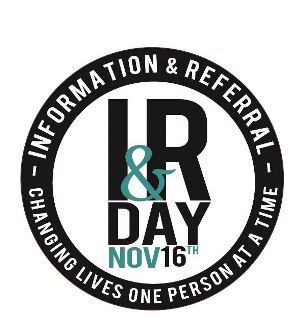 CELEBRATE "I&R DAY" IN YOUR COMMUNITY
Attention: All Community Information and Referral providers, data providers and partners throughout Ontario (and beyond).
November 16th is I&R Day in Ontario
(as declared by InformOntario)
This is your opportunity to celebrate your success stories and raise public awareness of the critical and rigorous work of I&R organizations – both big and small.
We know that every day thousands of people find the help they need quickly, conveniently, and free of charge because of Information and Referral (I&R) services throughout Ontario.
To celebrate the work of our sector, InformOntario and its members and partners are celebrating the work they do on November 16th - I&R Day!
Here are some ways to celebrate --- big or small --- your important role in your community.
Use social media as a count down to I&R Day to your community; challenge others to follow your account and share with others
Host an open house with a display, some goodies and a door prize or 2
Ask your local municipal government to declare Nov 16th

I&R Day

Ask your local newspaper or television station to run a story about your local successes
Host an information fair for the community; invite your local data and I& partners to participate
Spread the word to your local data and I& partners to also celebrate the day
Host an information table at your local mall, community centre or other public outlet
Ask a local "celebrity" (mayor, councillor, journalist, etc) to answer inquiries (create a video for posting; pictures for your website, etc)
Use the I&R Day logo on press releases, promo materials, buttons, etc.
November 16th was declared I&R Day in the U.S. at the request of AIRS, the Alliance of Information and Referral Systems, an international non-profit professional association of individual, public and private I&R organizational members.
InformOntario wants to bring its own flavour to the day by supporting its members. Below are some tools and materials to help your agency quickly create an event for I&R Day.
Resource Tools
Our thanks to Information Hamilton and PIN for sharing their planning and event materials.
I&R Day donation request (Word)
I&R Day event flyer (PNG) – page 1, page 2, page 3
I&R Day partner invitation (Word)
I&R Day pic collage at Hamilton (PDF)
Survey on ideas for I&R Day workshops (Word)
I&R Day 2018 logo – free to use
Let's spread the word and share the results.
Planning to do an I&R Day activity? We will contact everyone after the event to gather feedback, more resource tools, etc.
Complete this quick form......