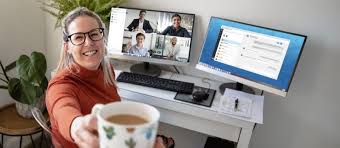 InformOntario and InformCanada online training series:
ReconciliACTION in the Information and Referral Sector
Truth & Reconciliation is important in our I&R workplaces and our sector as a whole. In this session you will learn from two Indigenous women who provide guidance and knowledge around TRC in the workplace.
Part 1 (Jan 25, 2022)
Presenters:
Karen Marshall, Indigenous Specialist, Canadian Red Cross
Karen is currently working with the Canadian Red Cross as an Indigenous Specialist deploying across Canada on disaster responses and social emergencies. She has also been serving as an Indigenous Consultant/Facilitator with The Halton Resource Connection and Milton Community Resource Centre. A proud Mi'kmaq woman, she has had the benefit of working across Canada and receiving teachings from many other Indigenous peoples, learning about our common beliefs and our unique cultural practices.
Angela Bellegarde, Indigenous Lead, Our Kids Network
Angela Bellegarde (bell-eh-guard) is the Indigenous Lead for Our Kids Network. She is a band member of Peepeekisis (pee-pee-kuh-sis) Cree First Nation in the Treaty 4 Territory of Saskatchewan and has lived in the Halton Region for the past 15 years.
Angela holds a Bachelor of Science Degree in Nutrition from the College of Pharmacy and Nutrition as well as a Master of Business Administration degree, both from the University of Saskatchewan. Her studies have focused on Indigenous health and Indigenous women in leadership roles. Ms. Bellegarde has had many professional opportunities such as Public Health Nutritionist in rural health regions of Saskatchewan, the first Aboriginal Partnership Development Lead for the Saskatoon District Health Board, and the Director of Aboriginal Education programs at the College of Commerce at the University of Saskatchewan.
Angela believes her role in life is to continue on her family's legacy of walking in two worlds, Indigenous and non-Indigenous, and to bridge the gap that currently exists between these communities. Her passion is to be a shift disturber and encourage non-Indigenous people to look at the world, our shared history, and our future from a new and different perspective.
She continues this work with Our Kids Network. As Our Kids Network's Indigenous Reconciliation Lead, Angela is tasked with developing a strategy that moves the Partners forward on the Truth and Reconciliation path.Angela is ecstatic about the opportunities that exist in our workplaces and communities to make a considerable shift towards Reconciliation.
=======
The list of indigneous resources discussed during the presentation (PDF format).
Video of presentation - click here or on picture for presentation to begin. It can also be downloaded.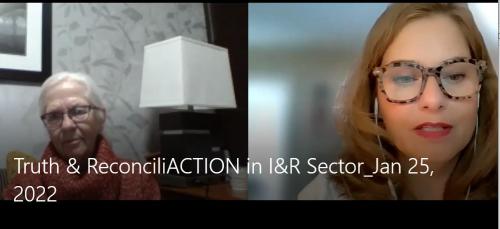 PART 2 (March 3, 2022)
Karen Marshall is back in this follow-up online session to provide support and suggestions in a knowledge-sharing session around ReconciliACTION within the Information & Referral sector. Where do we start within our own organizational priorities, service delivery and training needs? Along with Karen, Kristen Buckley from Findhelp Information Services and Bibi Mohammed from Milton Community Resourc Centre, will talk about their approaches, stumbling blocks and learnings.
Video of presentation - Click here or on picture for presentation to begin. It can also be downloaded.