ANNOUNCEMENTS ABOUT UPCOMING 2022 SYMPOSIUM WILL BE AVAILABLE SOON!
---

Our 45th annual Networking and Education Symposium has a new look and feel!
The 2-day event is set for Tuesday, May 18th and Wednesday, May 19th, 2021.
The community of Guelph – home to our member The People and Information Network (PIN) – will be the virtual host of our first, full-fledged e-Symposium.
The final version of our program in PDF format. Download here.
SPONSORS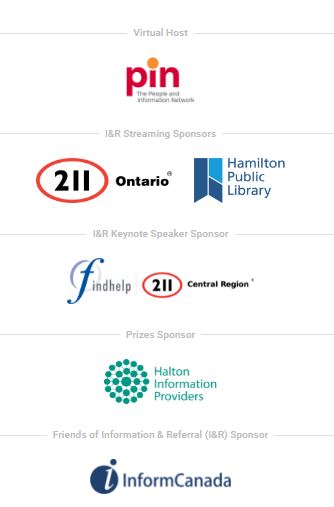 REGISTRATION FEES
Our Symposium offers value, education and networking for all participants, and contributes to professional certification hours. IO also recognizes that many organizations in the human services sector are facing continued financial and staff restraints. Therefore, our fees have been adjusted to show our ongoing support.
Our 1-price-fee for the 2-day event (InformOntario membership is NOT required):
Regular registration (d

eadline extended to May 15, 2021

) - $75.00 per person
Information about payment options - by cheque or e-transfer - click here. Sorry, we cannot accept credit cards.
Once registered, there will be no refunds (unless meet criteria) because the online workshops will be recorded and available after the Symposium. For additional details, see our Refund Policy.

REGISTRATION IS NOW CLOSED