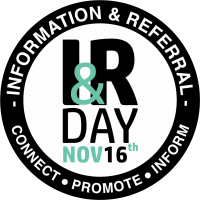 CELEBRATE "I&R DAY" IN YOUR COMMUNITY
Attention: All Community Information and Referral providers, data providers and partners throughout Ontario (and beyond).
November 16th is I&R Day in Ontario
(as declared by InformOntario)
This is your opportunity to celebrate your success stories and raise public awareness of the critical and rigorous work of I&R organizations – both big and small.
We know that every day thousands of people find the help they need quickly, conveniently, and free of charge because of Information and Referral (I&R) services throughout Ontario.
To celebrate the work of our sector, InformOntario and its members and partners are celebrating the work they do on November 16th - I&R Day!
Here are some ways to celebrate --- big or small --- your important role in your community while keeping COVID safety measures at the forefront.
Use social media as a count down to I&R Day to your community; challenge others to follow your account and share with others
Ask your local municipal government to declare Nov 16th

I&R Day

Ask your local newspaper or television station to run a story about your local successes
Host a virtual information fair for the community; invite your local data and I& partners to participate
Spread the word to your local data and I& partners to also celebrate the day
Ask a local "celebrity" (mayor, councillor, journalist, your IO President, etc) to answer public inquiries (create a video for posting; pictures for your website, etc)
Use the I&R Day logo on press releases, promo materials, buttons, etc.
November 16th was declared I&R Day in the U.S. at the request of AIRS, the Alliance of Information and Referral Systems, an international non-profit professional association of individual, public and private I&R organizational members.
InformOntario wants to bring its own flavour to the day by supporting its members. Below are some tools and materials to help your agency quickly create an event for I&R Day.
---
*** Examples of Events for I&R Day ***
thehealthline.ca Information Network
The SouthWesthealthline.ca is hosting a free webinar in London. Everyone is welcome to attend online. Link to the webinar:
http://irday.southwesthealthline.ca/
Our guest speaker, Harriet Ekperigin, will speak about BIG WHITE WALL, an online mental health resource that provides peer-to-peer support. Our panel of front line professionals will discuss their experiences working in I & R, and how the job continues to evolve.

A panel discussion with front line I & R and system navigation professionals from various areas in the health and community care arenas.

Objectives:

Provide I & R professionals the opportunity to share best practices with each other
Strengthen relationships between I & R professionals in the region
Explore the ways in which I & R continues to evolve through the use of technology
Volunteer Manitoba
-- social media will profile I and R staff at VM
-- letter campaign to newly elected civic leaders
PIN - The People and Information Network
Lunch n' Learn Panel Discussion about the value of the profession, challenges and successes; wilth 40 in attendance, media promotion (and cake!).
Oakville
I&R Day promo from IO President Marcus Logan.
Resource Tools
Our thanks to Information Hamilton and PIN for sharing their planning and event materials.
I&R Day donation request (Word)
I&R Day event flyer (PNG) – page 1, page 2, page 3
I&R Day partner invitation (Word)
I&R Day pic collage at Hamilton (PDF)
Survey on ideas for I&R Day workshops (Word)
I&R Day Proclamation Sample (Word)
I&R Day Logos - free to use
Review the selection of logos for use with website, press releases, Twitter, etc. Thanks to Andrew N at Information Oakville for updating and expanding your choices. Go to linked page.
---
Let's spread the word and share the results.
Planning to do an I&R Day activity? Share the details and they will be added to this site. Help others plan their own local events with ideas and strategies that have worked in your community.
Complete this quick form......