John Allec Memorial Bursary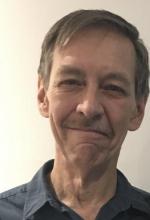 The 2022 and first recipient of the John Allec Memorial Bursary is Lisa Owens, from 211 North (Thunder Bay, ON). Lisa was awarded the bursary on May 18, 2022 at the IO Symposium by John's sister, Edith.
---
In honour and memory of John Allec, who passed away peacefully and unexpectedly at his home in Toronto in early October 2021, the Symposium Bursary has been renamed the John Allec Memorial Bursary.
John was a passionate contributor to the North American Information and Referral sector for more than 30 years. His measured, collaborative and cooperative approach enabled advancements in the field and broad standardization across North America.
As a long standing member of the AIRS Taxonomy Committee, Canadian Taxonomy leader and AIRS Board Director, John combined attention to detail with careful thinking to promote accessibility in resource development. In these roles, John led and supported significant innovations including the transition from Toronto's well-respected Blue Book to the 211 Toronto online resource directory.
In recent years, John helped modernize North American taxonomy including the development of an Indigenous Services chapter in the Canadian Taxonomy Toolkit and promotion of a more inclusive 2SLGBTQ++ taxonomy.
John was in intregal part of the creation of the original InformOntario 2003 Style Gude.
John was a kind and gentle man and a talented musician. Many will remember his beautiful voice and skillful piano playing at AIRS conferences. For those of us who worked closely with John, we will remember his thoughtfulness and dedication to his craft, a smile that took over his face and his humility. He will be deeply missed. Here is the link a video tribute ---bottom of the webpage.
Eligibility Criteria:
An InformOntario or InformCanada member in good standing (staff/volunteer) or individual IO member

is able to attend the full 2 day Symposium

has been involved/worked in the I&R sector for 5 years or more
Very few in the Information and Referral held as much knowledge as John Allec, and similarly, very few shared it so humbly and graciously as John. John was a gentle giant among us, in honouring his legacy, the board knows that there are others who give of their time and knowledge as selflessly as John and seeks to identify and acknowledge their commitment - even if it would make John blush.
Our online application process should include examples of at least 2 of the qualities below which made John such a committed champion of Information and Referral.
Membership in at least one InformOntario, InformCanada, AIRS working group, committee or board, or similar information and referral committee, working group or board

Editorial role or involvement in the maintenance and/or indexing of records

Demonstrated advocacy for information and referral clients by way of researching, organizing and making available quality data on programs and services

Demonstrates regular and collaborative contributions to best practices in the Information and Referral sector including the Standards, Style Guide and Taxonomy etc

Willingness to share one's knowledge through demonstrated professional development and training sessions offered
Eligible candidates can either nominate themselves or be nominated by someone else (co-worker, stakeholder, etc). One reference who can speak about the candidate and their qualifications is required. The next opening of nominations will be announced by April 2023.