Trudy Beaulne
"Thank you, Trudy, for your passion and commitment to helping people. You are missed. Thank you for being a leader and for your courage."
- Memorial message from 2018 Symposium attendee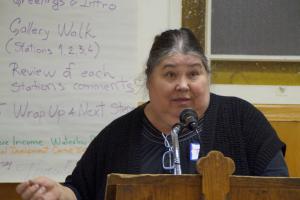 Trudy Beaulne, the Executive Director of Social Development Centre Waterloo Region (SDCWR), passed away unexpectedly on Friday, January 5th, 2018.
Trudy was the agency's longest serving Executive Director (more than 18 years), working as a community advocate who fought tirelessly throughout her life to represent society's marginalized populations.
She served for two decades on a number of boards and groups, including:
Social Planning Network of Ontario
InformOntario (IO)
InformCanada (ICF)
Mount Hope-Breithaupt Park Neighbourhood Association
Kitchener's Festival of Neighbourhoods
Trudy was a past president at IO, and also a familiar face at IO's annual Education and Networking Symposium as a presenter, mediator, vocal participant and advocate for the growth and sustainability of the Information and Referral sector. Her catch-phrase of "collaboration and partnership" speaks volumes about her belief in building up services, networks and groups within all types of communities, even in times when others try to create division and distrust.
She was passionate about Community Information and Referral, and the important role it can play in an individual's life. It can also be used in a community to help it grow, to be more compassionate and to identify unmet needs for community planning. For Trudy, the sector's standards were more than an outline of how to do data management or how to handle questions from the public; it was about ensuring that that everyone had equitable access to human services information.
"Anyone who had the pleasure of meeting Trudy could testify to the fact that her passion was contagious. For Trudy, her work was not simply a vocation to her—it was a way of life. Trudy's very soul lived and breathed compassion. To be around her was to feel inspired."
- From letter from SDCWR board of directors about Trudy's legacy --- read the full announcement
The InformOntario Board of Directors, in recognition of Trudy's commitment to the Information and Referral sector, has created the annual Trudy Beaulne Memorial Symposium Bursary.
The first recipient – in 2018 - was her long-time staff member Todd Turnbull.
Other recipients are:
2019 - John Allec of Findhelp Information Services/Central 211
2020 - no Symposium or bursary due to COVID-19 pandemic
2021 - Faed Hendry of Findhelp Information Services/Central 211

2022 -

Mark Winfield from Halton Information Providers/Information Oakville